Executive Coaching Certification
In 2008, Larry Rudwick received an Executive Coaching Certification from The Rescue Institute.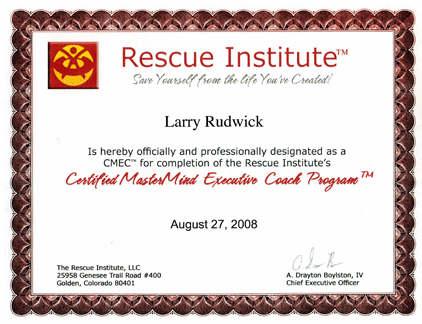 The curriculum was designed and taught by Drayton Boylston, one the America's most renowned executive coaches.
Drayton's trademarked MasterMind Executive Coaching Process taught us the 10-step program that includes:
STEP 1: Personal and Leadership Assessments
STEP 2: Values Identification
STEP 3: Time Audit
STEP 4: SWOT Analysis (Strengths, Weaknesses, Opportunities, Threats)
STEP 5: Uncovering Your Mission
STEP 6: Developing Priorities and Modifying Workflow
STEP 7: Creating an "Executive Dashboard"
STEP 8: Accountability Plan
STEP 9: Sustainability (build support systems)
STEP 10: "Spread the Concept"
Drayton sees how great coaching has very positive effects, and has so much potential especially during the times we are now in. From my time with him, I know that he has the ability to help people to see their potential. And he is driven to teach others to do so as well.

• • • • •
Have you ever considered becoming an executive coach?
If you would like to find out more about coach training, here is a link:
Executive Coaching Certification Training