Business Analogies, Similarities, Comparisons between
Growing a Business and Other Common Activities
These interesting business analogies can make us realize how similar
making business decisions are with very different situations.
Each of the following analogies illustrate how we plan, make decisions and take action. Each of these examples of analogies are quite different, but they all show how similar they are to taking steps to improve a business, or doing as I call it, a "Business Tune Up".

Each analogy illustrates one or more principals in problem recognition and problem resolution. This is why it's included on this executive coaching website.
You will find ideas, suggestions, action steps, and maybe even a bit
of humor, to help your organization, career, and personal life.
Links to Business Ideas, Suggestions and Analogies Pages
List of Small Business Ideas
Green Business Ideas
Business Suggestions
Business Analogies
Low Hanging Fruit Analogy
Car TuneUp
When
"The Tinman"
in the Wizard of Oz was first found, he was hurting. See what Dorothy, the oil can, and the scarecrow did next demonstrates the
principals of low-hanging fruit
business analogy.
• • • • •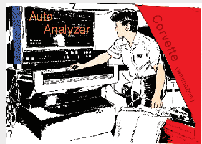 You may not realize that getting a Business Tune Up has similarities to getting an
automobile tune-up
.
Read the analogy to a car tuneup.
• • • • •
Improving your business also has analogies to
going on a journey
. It usually helps greatly when you:
• Know where your starting point is
• Know what your ultimate destination is
• Figure out routes and "vehicles" to get from here to there!
• In other words: "Plan YOUR Journey and Enjoy the Ride!"

• • • • •
Managing/leading a business also has similarities with driving a car. You need to:
• Power it up
• Slow it down at times
• Steer it, keeping it on course
• And, of course, keep your vehicle tuned up!

• • • • •
Building a business has analogies to building a building. In both cases, you most likely need to:
• Plan it out properly on paper
• Apply for the appropriate approval and permits
• Use the proper tools and materials
• Make sure it's built with a solid foundation that will endure tough storms (competition, etc.)
• Hire the right employees and contractors
• Lease it to good tenants; (seek out good customers/clients)
• Get expert advise whenever you need it.

• • • • •
Would you like some brief business tips once a month? How about signing up for our free monthly newsletter. Click on Great Changes Ezine for details.
Monthly Newsletter Subscription
to "Great Changes Ezine"
Have an idea, thought or suggestion you would like to tell me? If so, please feel free to contact me!

I hope you have learned something from these business analogies.