Enterprise Distribution Software
This enterprise distribution software was one of the keys to success
in Larry Rudwick's wheelchair parts business. Today it is used by
thousands of users, is available and fully supported to help
manufacturers and distributors improve their operations.

Links to Pages about Business Coach Larry Rudwick
About Larry Rudwick
Rudwick Patents and Inventions
Wheelchair Parts Business Success Story
Enterprise Distribution Software he promotes
Executive Coaching Certification Training
Contact Larry
Find a Business Coach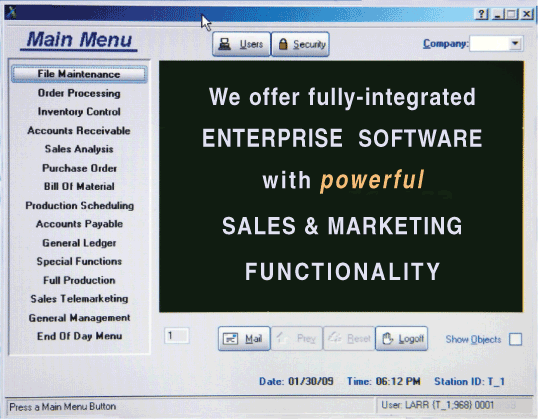 This enterprise software, primarily used by manufacturers and distributors, has all of the features (and more!) that helped Larry become successful in his wheelchair parts business; Larry promotes this software to clients and prospects who can best utilize its robust features.

This fully-integrated sophisticated enterprise software includes loads of features you would expect on more expensive systems, such as from SAP and Oracle. This partial listing of standard features include:


• File Maintenance
• Order Processing
• Inventory Control
• Accounts Receivable
• Sales Analysis
• Purchasing
• Bill of Materials
• Production Scheduling
• Accounts Payable
• General Ledger
• General Management
• Production Scheduling

These systems been under continuous use and development for over 25 years and is fully supported.
It is primarily used by manufacturers and distributors with 10-1,000 employees, operating 5-100+ user systems - some having multiple locations.

Its optional sales and marketing, and contact management features are fully integrated and can help you improve the top and bottom line performance of your organization. Helps sales staff and customer service reps to better understand what each customer/client has purchased in the past AND will more likely purchase in the future!

Contact Larry Rudwick for more information and to arrange a demonstration. .
• • • • •
Enterprise Software Lead Finders Wanted
Do you know companies that are looking for this type of software? We are currently recruiting lead finders to help us do so. Would you like to find out more about this program?