Larry Rudwick Patents of Small Wheeled Vehicles
Small wheeled vehicles describe all of the Larry Rudwick patents. They
were imagined and invented during and shortly after completing college.
Larry Rudwick patents all have in common his keen interest in "small wheeled vehicles". This page briefly describes the patents Larry Rudwick received several years after graduating engineering school.

The inventions included a 3-wheeled pedal-powered and/or electric powered go-kart, an electric assisted hybrid pedal-assisted bicycle, and a sports wheelchair - models for racing marathons, and other models for wheelchair basketball and wheelchair tennis.

Links to Pages about Business Coach Larry Rudwick
About Larry Rudwick
Rudwick Patents and Inventions
Wheelchair Parts Business Success Story
Enterprise Distribution Software he promotes
Executive Coaching Certification Training
Contact Larry
Find a Business Coach
Please note: The drawings below were incorporated into his patents.
Larry sold the rights to each of his patents and today, nearly 30 years later, there are numerous manufacturers making very similar vehicles around the world.

• • • • •
The "Trimobile": 3-wheeled pedal-powered go-kart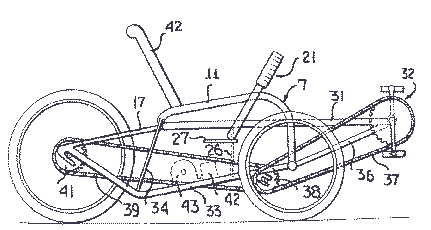 Larry developed an interest in go-karts and other fun vehicles at a very early age. While in middle school, he decided some day he would build a pedal-powered go-kart so he could ride it on the street.
His first invention became the trimobile, which is a recumbent (low-seated) pedal 3-wheeled vehicle with 2 wheels that steer in front, which he started developing in college. It handles almost like a go-kart. With its low wind-resistance, it can go faster than bicycles, especially downhill.

• • • • •
Hybrid "E-bike": electric and pedal-powered bicycle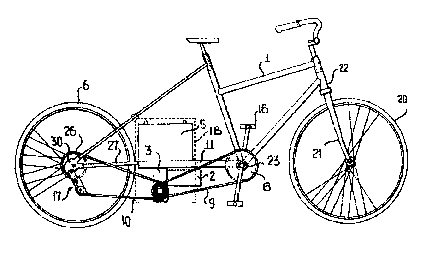 After Larry sold the rights to the trimobile, he became very interested in designing improved electric-assisted bicycles. This was at a time when gasoline-powered mopeds were being introduced in America and when the first battery-powered electric cars and motorcycles were for sale. Unfortunately, with the limited storage capacity of the lead-acid batteries, the distance between recharges made them pretty impractical.
Rudwick Patent #2 is very efficient because this "e-bike" can be pedaled OR run on electric power OR operated by both sources together. Furthermore, Larry's invention allows the motor to remain in its most efficient operating range because when the rider is ready to shift, so is the motor!
Despite the fact that he originally used a standard deep-discharge lead-acid battery, his e-bike could travel at 25-30 mph for about 50 miles; and the cost to recharge the battery is still only about SIX CENTS!
Today, there are hundreds of manufacturers making over 20 million electric-assisted bicycles annually; some of them use very high-tech batteries and are probably THE most efficient way to travel around town. Larry predicts they will become more and more common in the USA and the world over the next decade. For links to electric bike manufacturers and more, go to that is why this page is included on our Green Business Ideas.

• • • • •
Sports Wheelchair: models for racing, basketball, tennis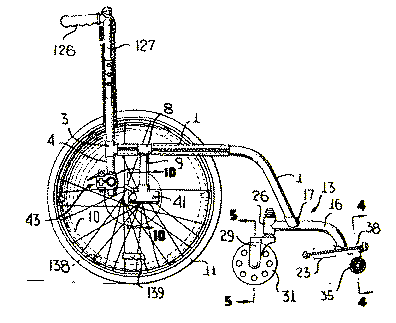 After Larry co-founded a business to make prototypes for inventors and manufacturers, he discovered a big niche in the wheelchair industry.
In the late 1970s, wheelchairs were 30 years behind technologically compared to high-performance bicycles. This led Larry and his partner to develop one of the first production high-performance wheelchairs. It was lighter, stronger and quicker than what the "big boys" were offering.
The first racing prototype made was given to a wheelchair athlete who won the Boston Marathon using it, and later push it all the way across the USA! Other models were used in wheelchair basketball.